Shrunken (Now Vanished) Kodak and its Southern Offspring (Originally Published 8/21/2010)
In 1972 I was employed (since 1965) by the third largest company in the world, based on market capitalization. Now that company, Eastman Kodak, is one tenth the size of the 500th largest company. With a dominant share of the photographic film business and ability to tweak prices as needed to deliver the desired profit, Kodak thrived on the genius of George Eastman for 100 years from its 1880 founding. Then, in 1981, the Sony Mavica, the first consumer magnetic still video camera, was introduced offering an alternative to silver halide film. And beginning in the 1990's as price of memory continued its downward march, digital photography shoved traditional film aside and assumed the dominant position. Today, once the camera is bought, amateur photography is essentially free so long as users stick to digital images and resist the temptation to hit the "print" button.
I have kept the table below from a 1993 issue of Fortune Magazine since its publication. It provides dramatic illustration of the fall of Kodak and also illustrates some other interesting trends. I couldn't find the latest Fortune 500 list ranked based on market capitalization so used a recent Financial Times list to add the column on the right showing the top twenty in 2008. Click on the chart for a readable version. Then click on the back button to get back to this posting.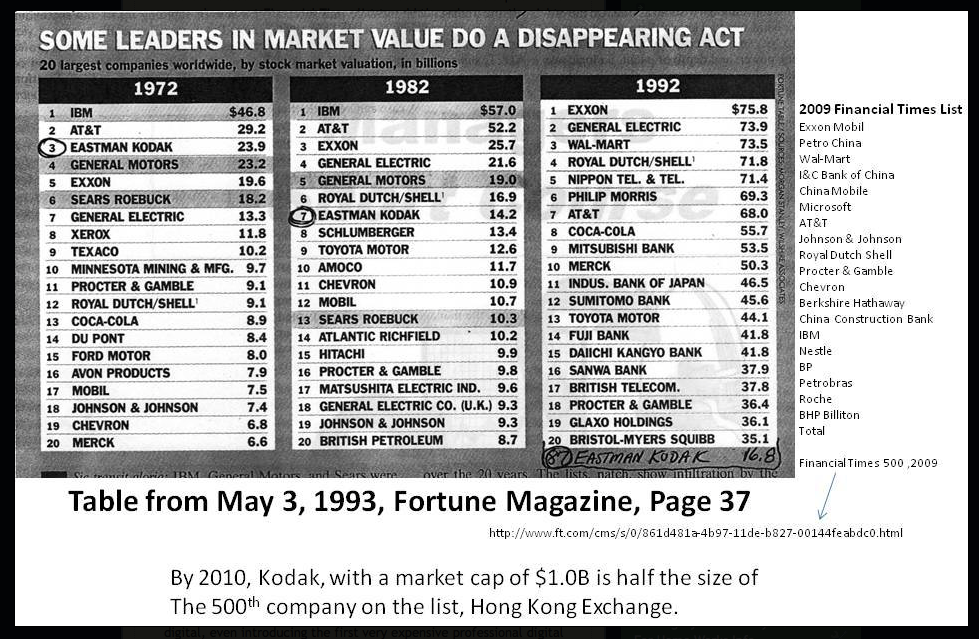 An interesting observation is the appearance of Japanese companies in the 1992 listing and the high visibility of China and complete absence of Japan in the most recent list. Also interesting is the names of companies common to all four lists: Exxon, AT&T, Royal Dutch Shell, and Procter and Gamble. IBM and Johnson & Johnson dropped off in the 1990's but are back now. It is also interesting that there are no banks on the list in 1972 or in 1982.
I guess the lesson here is that there are no guarantees in the business world and that success in the face of competitive pressures and changing markets requires discipline, leadership, talent, hard work, and good strategy. Of course Kodak leaders could see that imaging was changing and that, if Kodak was to remain an imaging company, change would be required there as well. They made the shift to digital, even introducing the first very expensive professional digital camera in the 1970's, but there has been no way for Kodak to hold a dominant position in digital as it did in silver halide. Probably a more successful strategy would have been to merge the digital stuff with a market leader and manage the remaining film business to maximize cash flow. It's too bad the decline of Kodak was so gradual. If digital had come on suddenly, maybe Kodak could have been judged too large to fail and given a government bailout. Maybe there could have been a federal subsidy for anybody who bought a roll of Kodak Gold(R). That wouldn't have been any crazier than some of the subsidies being paid today.
In my 28 years under the Kodak umbrella, only two were at headquarters in Rochester, NY, in the consumer imaging business. All the rest were at fully owned Eastman Chemical Company, the poor Southern stepchild headquartered in Kingsport, TN. Kodak in Rochester and Eastman in Kingsport were as different as Franklin D. Roosevelt and Jimmy Carter. I was told once by a Kodak employee that when he showed up in Rochester for a job interview and was seated in the back of the plane and slow getting off to meet the people picking him up, he was told, "When you fly for The Eastman Kodak Company, you fly first class!" In Kingsport, on the other hand, we were discouraged from flying at all and were not allowed to go west of the Mississippi River without special approval. There was a "wall of separation" between Eastman and Kodak to prevent cross-cultural contamination. All company related communication between the tens of thousands of Kodak employees and the fifteen thousand or so Eastman employees was supposed to go through one senior executive at Eastman. I'm talking about thirty-five years ago.
January, 1994, Kodak spun off Eastman Chemical Company as an independent publicly listed company listed on the NY Stock Exchange (EMN). The numbers of shares were set such that both companies started with share prices of $46, and Eastman took along $1.8B in debt. You can see from the 1992 listing on the table above why Kodak might have been under some pressure to get rid of peripheral businesses and focus on its core competencies. After the spin, Eastman toyed with growth and globalization through acquisitions for a few years and wasted a lot of money in the process. Eventually the culture of frugality and conservatism and an emphasis on profits took over and the company divested much and got back to basics. Here is a chart from Yahoo finance showing performance of EK and EMN since the date of the separation.
The Eastman Chemical chart is nothing to brag about, but someone who bought 1,000 shares of EMN on the date of spin paid $46,000 and has collected approximately $28,000 in dividends over 17 years and holds shares worth $61,000 today (8/21/2010). It's no Amazon and doesn't even stack up too well against S&P 500 performance (Up ~ 120%), but it's nothing to be ashamed of either.