This was first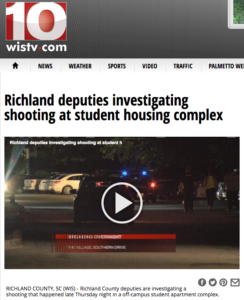 posted on my old blog in September, 2014. I was reminded of it by this news item of a non-fatal shooting at one of these south-of-the-stadium "student" housing complexes. I am guessing that student retreat from these is accelerating as the construction of new and more luxurious student housing continues much closer to campus. Can we have some apartments in Columbia that are not specified based on "number of beds?"
Here is the original post.
A few years ago, there was a lot of interest in development of student housing south of Williams Brice Stadium, shuttle service back and forth to campus included.  One of those developments was The Retreat at 1929 Bluff Road, about three miles or a one hour walk from the center of campus. The development offers "Columbia's only CRAFTSMAN-STYLE COTTAGE LIVING community with COLUMBIA'S BEST AMENITIES, and expansive green-space.  And with a SAVINGS OF UP TO $855 A SEMESTER over the dorms, The Retreat is truly THE VERY BEST IN STUDENT LIVING!" And, six or seven times a year, students could easily walk to Williams Brice Stadium for football games!
Now there is a boom in student housing within easy walking distance of campus. The old SCANA office building on Main Street has been converted. Residents get a space in the adjacent parking garage but there are reports that some are still planning to also rent space on campus to reduce the 0.9 mile walk that would otherwise be required. Major new student housing projects have also been announced on Assembly and on Blossom streets, both within blocks of the campus, and there are others much closer to campus than The Retreat. With the unfortunate proliferation of student loans, cost of the more convenient and newer housing, usually with excellent amenities, should not be a major issue. And this increase in residential living in downtown Columbia is a very good thing for the city.
I haven't visited The Retreat since it is gated, but I am guessing that it is suffering some from several years of student occupation and will soon be abandoned for the status and convenience of the new high rises much closer to campus. If that happens, The Retreat will provide an excellent opportunity for the City of Columbia to take a giant leap forward with the Housing First approach to homelessness. Units at The Retreat offer up to five bedrooms so transient homeless and first time occupants can be assigned a room at income adjusted cost and given the opportunity to work their way up to better and more private facilities based on the care and housekeeping they practice and on their participation in personal development opportunities offered.
Use of The Retreat for Housing First will greatly facilitate the work of providers of counseling, medical, feeding, and job training services. Day Labor companies can provide pick up "temps" there. Transportation can be provided to Transitions, hospitals, etc., using the system of vans already in place. Struggles and spending to provide "winter shelter" can be ceased.  Space not needed for the homeless can become ordinary Section 8 housing. Conversion of student housing to Section 8 housing in Columbia is not unprecedented. A large development of Section 8 housing on Withers Drive at 320 South Beltline was once, I was told, apartments for married USC graduate students.
An interesting intersection of ideas here is that the only active Housing First initiative currently underway in Columbia is sponsored by the University of South Carolina School of Medicine.
Of course, there has to be some requirement that homeless persons in Columbia take advantage of such a generous and potentially helpful offering and make some effort to improve their situations rather than camp in the parks and along the riverbanks and railroads. Income information will be required and affordable daily rents will have to be paid, even if only a dollar or two a day. Maintenance and cleaning jobs can be offered at the facility to help residents pay their bills and earn additional money. It is important to avoid attacks on dignity and self-respect by having reasonable expectations of those who take advantage of the living space.
As I have pointed out in previous posts, sleeping outside in Columbia SC in public places is both dangerous and unhealthy and should not be allowed. Homeless on the streets should be offered the options of either going to jail, leaving town, or occupying a nice facility complete with baths, laundry facilities, swimming pool, and exercise room and participating in the programs and homeless services provided along with it. Of course, there would have to be full time police coverage. Background checks would be required for occupants but, unless the applicant is subject to arrest, would not prevent assignment of a room.
Lest my readers think this is tongue-in-cheek or sarcasm, let me assure you that I believe the Housing First initiative is a good idea offering the potential to save money and provide more effective assistance to homeless individuals than current approaches, and that such an approach would be a good thing for Columbia, SC.
And, if it turns out that The Retreat is unavailable for such use, there are other similar developments in the area. I'm just using The Retreat as an example of what might be possible.