I remember seeing an Apple Macintosh computer on display somewhere in Columbia, SC, in 1984 or 1985 and being amazed at the point and click technology. That had to be the wave of the future of personal computing. But, I didn't buy one for $2500, nor did I buy any Apple stock at a split adjusted price of about ten cents a share. If I had bought the computer, I would have enjoyed it immensely. If I had bought the stock, it would have hit $0.40 per share a couple of years later. I would have had to wait about twenty years to see any further significant increase and would have probably given up long before that. I might have gotten lucky and sold it right before the dot.com crash for a nice profit.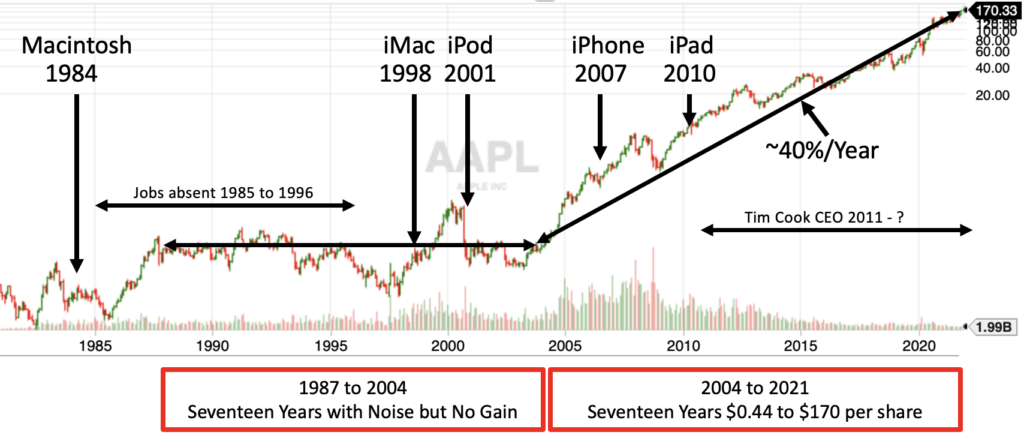 The chart above shows the stock price history and some major product history for this amazing company. It's a semi-log chart, so the price in 2004 can't be read on the scale. It was around $0.40 per share. Growth in share price since then has been about 40% per year.
Other than the Macintosh, out of my range at the time at $2500, I have bought all the products on the chart, three iMacs, one original iPod, three iPhones, and an iPad. I've bought and sold some shares of AAPL, but it always seemed too expensive! I never stuck with it.
I spent about $7000 on the products. If every product purchase had been matched with a stock purchase and held till now, that $7000 would be somewhere well north of $100,000 (I'm not going to try to do the math. It would be too depressing).
The original iPod I bought for $399 I believe, the one with the little hard drive, my name engraved on it, was stolen from my car in the driveway a few years ago. The first iMac, with its flat but thick screen, is obsolete but enhances the decor in our guest room. In technology terms, it is an antique and still works. The second and third thin and sleek iMacs, the iPad, and two iPhones are still in daily use. All are great products from a great company in daily habitual use by a lousy investor.
I wonder what the future holds for Tesla, an incredibly expensive stock at the moment. I haven't bought a Tesla automobile or any shares of TSLA.
Note: Lots of info on the web about the product, stock price, stock splits, and management history of Apple. Do your own searches since I didn't include any of the links in this post. The chart minus annotations is from Fidelity.