Sevier County Tennessee "Taliban" (Originally Posted 9/14/2010)
Sevier County, nestled in the foothills of The Great Smoky Mountains in East Tennessee is best known as the home of country music entertainer Dolly Parton and her popular Pigeon Forge, TN, theme park, Dollywood. Other towns are Gatlinburg, where my parents were honeymooning when the Japanese attacked Pearl Harbor, and Sevierville, where Granddaddy liked to go in the afternoons after finishing his mail route to gab with friends on the courthouse lawn. And then there is Seymour where my grandparents lived and worked for the US Post Office, where my mother and her sisters grew up, and where I spent time in the summers fishing for catfish, helping Granny trap rats around the smokehouse, and taking rides with Granddaddy who loved to get in the car and go somewhere. I know it's a bit of a digression, but to lend some authenticity to my story, here is a little memento I have of those days.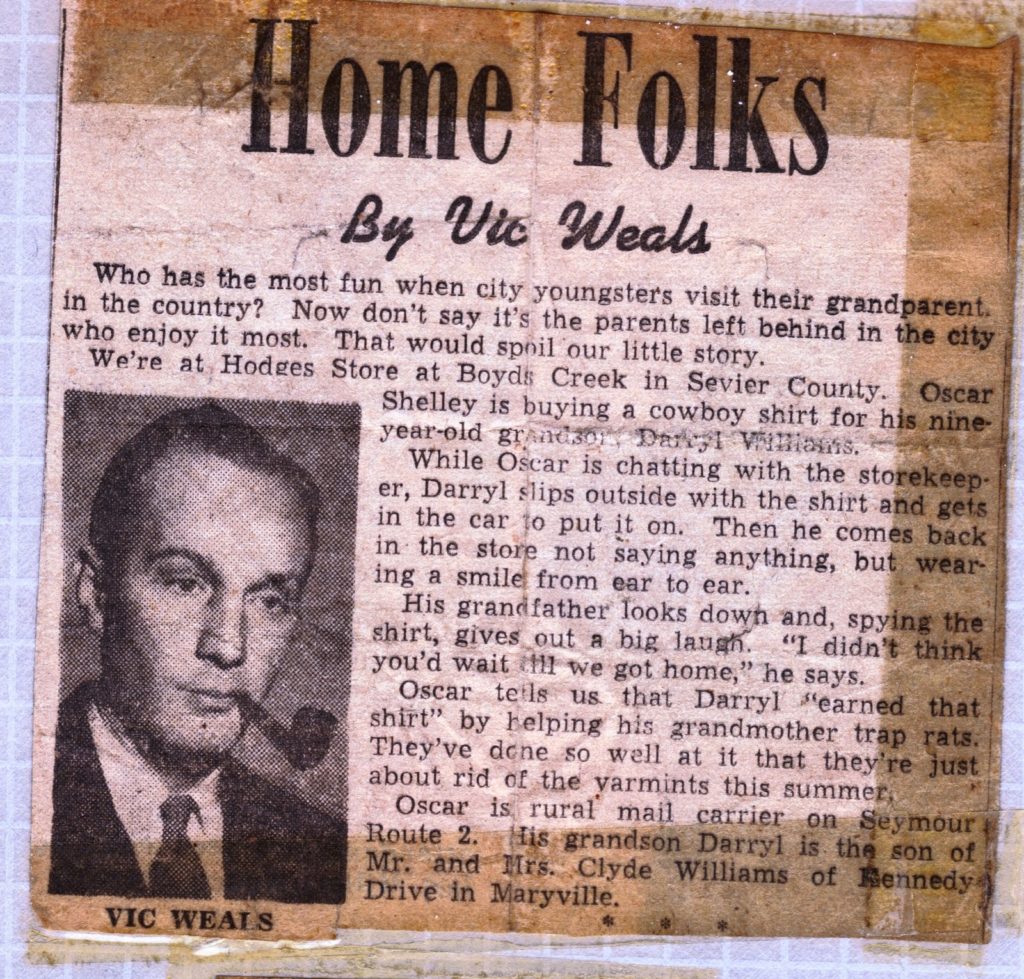 Granddaddy loved to tell stories and one thing he liked to talk about was the Sevier County Whitecaps, a vigilante gang that tried in the late 1800's to impose a code of behavior on the local citizens somewhat stricter than that imposed by the elected sheriff and judges. What made me think about this was an article in The State Newspaper about The Taliban threatening music store owners in Afghanistan and bombing those who don't stop selling Western music. I thought to myself, that is just like those Sevier County Whitecaps and the Ku Klux Klan, after which I suppose the Whitecaps were modeled, trying through threats and intimidation and violence to impose a code of conduct different from that prescribed by the law. So, I guess we in the US have no valid claim to the high moral ground except that here the majority along with courageous officials have generally risen up and stamped out such vigilante activity as they did with the Whitecaps.
If you Google Sevier County Whitecaps, you get a lot of hits including one from the Sevier County Library which has a book on the subject available online. Here is a quote from Chapter 1 of that book  explaining the reason for the founding of the Whitecaps:
About the year 1892, certain communities in Sevier county had become infested with lewd characters whose conduct was very obnoxious to the good citizens, and after repeated, but unsuccessful efforts by legal methods to punish these evil-doers in the courts, the good citizens became disheartened, feeling that the law was not furnishing that protection to society that it should. Thereupon certain persons, with good intentions, but mistaken judgments and more unwise than they then thought, began to discuss the advisability of getting rid of the immoral characters above referred to by some other method than through the courts – the only legal channels.
Bad idea!
Now here's a funny thing. My other granddaddy, the same one who told me about Dillard Williams, also liked to tell stories and in 1985 he told me one, on tape, about the last of the Whitecaps. Here is what he said with names omitted to protect the descendants of the probably guilty.
Yeah those were rugged times, and them Whitecaps was just as bad. The last ones of them was ___________ and __________ out of nice families. One of the fathers used to sheriff as I understood it. In later years they were very prominent. Some young couple, name of Whaley, lived on _________'s farm down below Sevierville, and he wanted them killed for some reason or other, so the story was… This ________ and ________ just went in there and killed that young man and his wife. Cold blooded murder. I don't know whether they shot them or how they killed them. I guess they shot 'em. I don't know that I ever heard anyone say how they killed them but (another) young woman was laying there in the bed with (a) baby in the other room and saw 'em and of course she knew 'em. They were neighborhood men… Well, of course that give 'em away, and they hung 'em here at Sevierville. My father was at the hanging. Said there was a big crowd there, had a public hanging in front of the jailhouse there. Hung both of 'em. When they went to have their trial, they couldn't get a judge up here to hold a trial so they got one out of Knoxville. Believe it was J. R. Nelson, believe was his name. He stayed all night, came up on a train or in a hack or something. I don't know if they had a train or not at that time. Anyway he had to come up and stay all night at Sevierville. He stayed all night in the hotel. Said they marched around the hotel singing the night before the trial they were going to hang J. R. Nelson, Judge Nelson, to a sour apple tree. And they had their trial, found them guilty. He announced the death sentence. Both of them were hanged. He said, "Gentlemen, this here will stop your Whitecapism now." And it did.
So, let us hope and pray for such strength and courage on the part of the majority in Afghanistan and the law enforcement officers and judges who represent them that the Afghan citizens might have the same kind of victory the citizens of Sevier County had and that it might someday be possible to have a branch of Dollywood with lots of country music somewhere in Afghanistan even though they probably won't want such a thing. For now, we have this assurance at the end of the newspaper article:
Security officials in Jalalabad said they're aware of the problem and looking for ways to keep the intimidation in check.