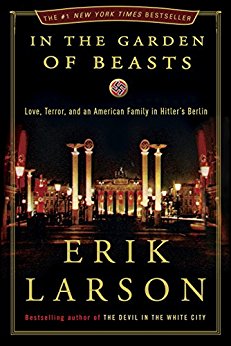 (First published 4/29/2012) US Ambassador to Germany was not exactly a plum position in 1933, and President Franklin D. Roosevelt had to get to his fifth choice, four months after his inauguration, before finding a reluctant taker. William E. Dodd was a historian, a conservative and sober student of Germany and its language, who accepted the job and saw and documented Germany's transformation, in a 12 month period, from a militarily weak and downtrodden nation, led by 85 year old President Hindenburg, who had appointed a young Adolph Hitler to the position of chancellor and who retained the power to remove him from that position, into a Hitler dictatorship and military regime of terror focused on Aryan domination of the European continent.
Dodd moved his family to Berlin in July 1933 and began his personal four and a half year struggle with the US-Germany relationship. Even as he saw what was going on in Germany, he had to deal with US apathy and a general belief that Hitler was leading a "historic rebirth," posed little military threat, and was working hard to solve "The Jewish Problem" for which the Jews, after all, in the opinion of many, in Germany and in the US, bore some responsibility. The Jews had, after all, demonstrated a disturbing tendency to achieve wealth and power and move into the top 1% of society in both countries. It is an interesting bit of trivia that of the German population of 65 million, only about 1% were Jewish.
By the time Dodd had begun his service as ambassador, the strategy that became known as "Coordination," was already underway with terrorizing and imprisoning of German citizens of questionable loyalty, establishment of the first concentration camp, employment restrictions on non-Aryans, and establishment of a culture that might make one think of the "See Something, Say Something Act of 2011" passed by our own federal government or even of the US Political Correctnessmovement, including media and political demonization of violators. The phrase used in Larson's book is "culture of surveillance," and it makes one think of the current proliferation of cameras in public and private places in the USA. Bugging of phones was standard practice, and, for a confidential conversation, Dodd had to take walks in the park with associates and visitors.
Abortion was outlawed, except for Jews and other minorities and those with some possibility of genetic faults. Killing of "incurables" was deemed justified. The Law for the Prevention of Disease approved involuntary sterilization. The Editorial Law banned Jews from employment by newspapers and publishers. David, Samuel, and other Jewish names were banned for use in spelling. No more "D as in David."  It had to become "D as in Dora."  Inter-racial marriage was banned, and ancestor searches were done to be sure that all with Jewish blood were appropriately identified and dealt with. On a more positive note, cruelty to animals was absolutely forbidden.
The most ominous and visible sign of Hitler's success with "Coordination" was proliferation of the Hitler salute accompanied by a robust "Heil Hitler."  It's dominance of German personal interactions beginning in 1933 is the source of the only funny line in Larson's book: "The German public had so avidly embraced the salute as to make the act of incessantly saluting almost comical, especially in the corridors of public buildings where everyone from the lowliest messenger to the loftiest official saluted and Heiled one another, turning a walk to the men's room into an exhausting affair."  Even school children were required to "Heil Hitler" their teachers several times a day. Americans, exempt by German law from the salute, were sometimes beaten in the streets for failing to follow the custom. That conformity, achieved by Hitler, might be considered a cautionary tale for US citizens prone to look at presidents as saviors rather than servants, writing songs about them for school children, and putting their images on American flag replicas. Power was no more claimed by Hitler than it was ceded to him by a populace giving up personal freedom for security while turning a blind eye to atrocities going on around them.
There is no clearer evidence of citizen compliance than the November, 1933, election in which Hitler sought approval of his decision to abandon the League of Nations, an essential element of the World War I settlement, and aggressively rearm Germany. He ran an ambitious get-out-the-vote campaign, with underlying threats, and got a 96.5% turnout with 95.1% of those voting as he had requested. The 4.9% who voted "NO" were courageously risking their lives. Even in the prison that had been established at Dachau, 96% of the prisoners voted as Hitler requested.
With that victory behind him, Hitler openly declared that the German people needed more space and, while promising that he was interested only in peace, insisted on equality of armament. That has a familiar ring. In July, 1934, he ordered the immediate death of at least seventy German officials and officers of whose loyalty he was unsure. In defense of that action, he declared, "…at the moment I was responsible for the German nation; consequently it was I alone who, during those twenty-four hours, was the Supreme Court of Justice of the German People."  Hitler closed the deal for good when President Hindenburg died in August and Hitler assumed the duties of President as well as Chancellor. Many believed and accepted and treated Hitler as a god. "Women cried as he passed near; souvenir hunters dug up parcels of earth from the ground on which he stepped."  Speaking to a crowd, Hitler claimed, "That you have found me…among so many millions is the miracle of our time!"
Ambassador Dodd had little impact on the course of history but was one of the few who realized where it was leading, told the truth as he understood it to both Hitler and Roosevelt, and left a gift of immeasurable value in his letters and papers which documented the moral decline and military advance of Germany and served as primary sources for In the Garden of Beasts. Dodd was replaced and returned home at the end of 1937, less than two years before Hitler invaded Poland. After the 1939 invasion, he wrote Roosevelt an "I told you so" letter and died a few months later, in February, 1940.
So we are reminded of the wisdom of our founding fathers who established a government of the people, by the people, and for the people, with three branches, power balanced among them, and a guarantee of rights to life, liberty, and the pursuit of happiness. Let us remain vigilant, never selling out for a false promise of security and leaving our children and grandchildren to fight to reclaim those freedoms.
This is just a sampling of Larson's text. Read the book!