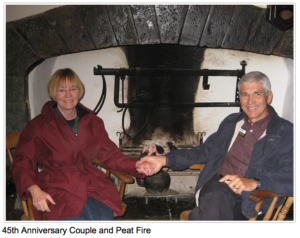 If you trace your ancestry to Ireland, Scotland, England, or France or if you came from the Vikings or if you are Catholic or Episcopalian or Anglican, or Presbyterian or Baptist or if your favorite color is green, or if you are just a United States Citizen, and you haven't toured Ireland, call your travel agent. What a rich history and interesting people Ireland has, both with continuing significant impact on American culture! And if you go, you couldn't do better than to choose Brendan Tours' Glimpse of Ireland with Marian Kelly as tour leader. She has been in the business thirty years and has a rich knowledge of Irish history and culture and its connections to America.
Ireland is different. Get ready for coffee shops without laptops, TV with few channels, few commercials, and very limited crawlers, stock prices, and partisan arguing, towns without Wal-Mart's, lakes without bass boats, and people strolling without texting and chatting on their phones. It is green and wet with 76% of the land in pasture and grass growing nine months of the year. There are more sheep than people but they aren't sure how many more. According to Marian, "Every time they send a lad out to count them, he falls asleep." Pastures are marked by hundreds of beautiful, fast flowing rivers and streams and spotted with clear deep lakes with trout and salmon in abundance.
If you are lucky, you will get a clear and simple explanation of the problems in Northern Ireland and how they began in the 14th century and resulted in the emigrations to America of the Scots-Irish Protestants in the 1700's. (We didn't visit Northern Ireland but I'd like to go to learn more about that history.) You will learn how such a rich land with temperate climate became the site of the potato famine of the 1840's which starved a million or more and forced emigration of tens of thousands of Irish Catholics in search of food, many coming to the northeastern United States. You will visit medieval castles, a working farm, the famous Cliffs of Moher, and you will hear lots of Irish music. If you want to, you can kiss the Blarney Stone, but I passed it up.
So, check it out. With a good tailwind, it only takes about four hours to fly from Boston to Dublin.
And for a great read on the Scots-Irish history and emigration to and impact on the United States, check out Born Fighting by Virginia Senator James Webb.
Photos are at http://public.fotki.com/dkw56/ireland-september-2009/