Over almost 52 years of marriage, my wife and I have rented eight and purchased eight residences. So we have considerable experience with both renting and buying and can vouch for the joy of "owning," usually jointly with some financial institution and always with some taxing entity, our residence. Doing so allows freedom to customize, decorate, furnish, repair, relax, improve, and make a house a true family home. When renting, one never knows when moving will be dictated by the landlord. (We were evicted from our first $50 per month rental after only four months because I backed my car into the yard to unload some firewood.)
Charles Lane of The Washington Post has a recent column entitled, "Why Less Home Ownership is Actually Good News." The important issue he raises is how home "ownership" is defined, whether in terms of the percent of households having bought homes, currently down, or in the amount of equity they have in their homes, currently up. He points out that home ownership as determined by percent of US households "owning" their homes peaked at 69.2% in the fourth quarter of 2004 but, as of the second quarter of 2016, has dropped to only 62.9%, a level last seen in 1965. Average equity per homeowner, however, has increased because there are fewer underwater mortgages.
The first chart below covers a longer period of time while the second gives more detail for the latter years.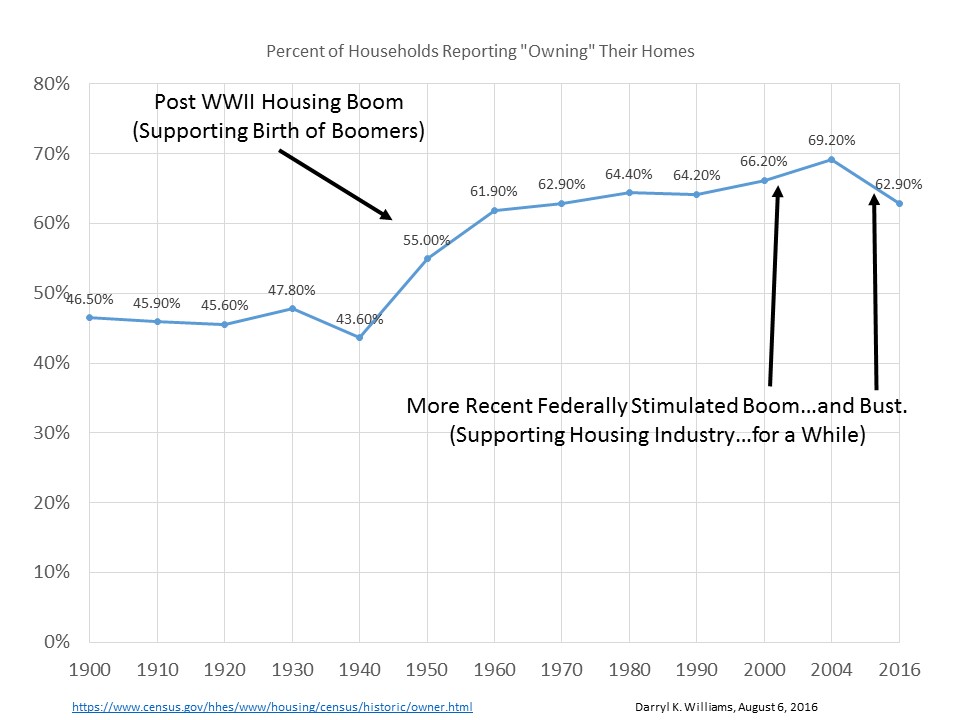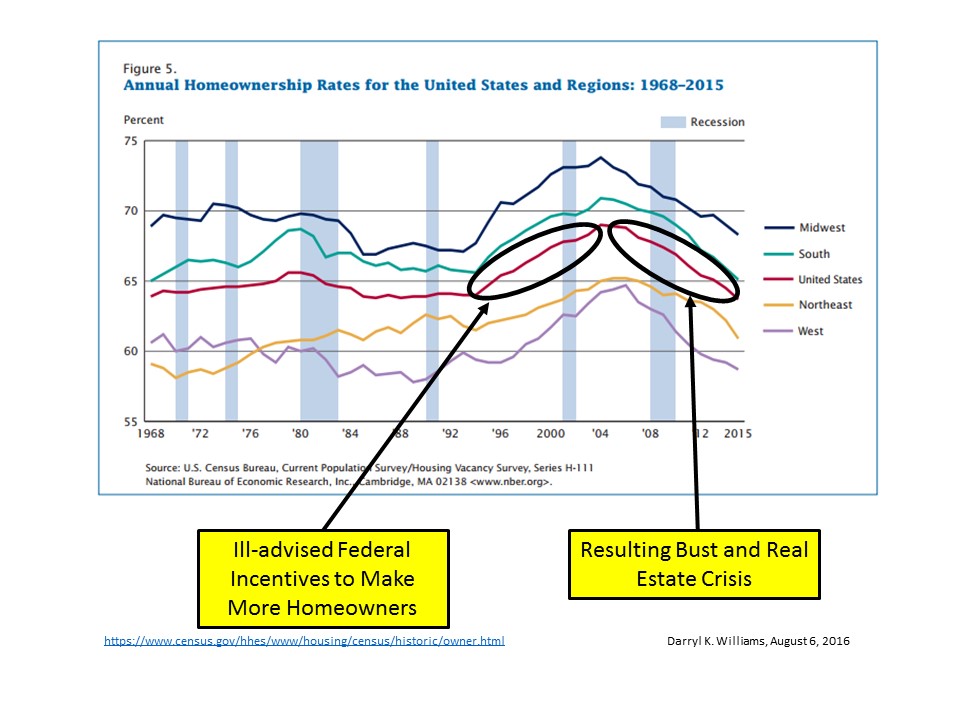 As Lane points out, federally backed low or no money down mortgages such as were promoted heavily during the Clinton and Bush administrations are not viable routes to home ownership. They are traps that encourage people to buy homes very unlikely to increase in value and to take on responsibilities they are unprepared to handle.
That trap is based largely on the myth of home value appreciation with shrinking mortgage payments, and that myth is based mostly on the experience of those of us buying homes in the inflationary 50's, 60's, and 70's. We bought a home in 1974, fixed rate mortgage payment a stretch at maybe $220 a month, and then watched that payment shrink year by year to relative insignificance as salaries and home selling prices roughly doubled just due to inflation over the next dozen years. (It may be worth noting that elected government people living in and around Washington DC have experienced decades of uninterrupted housing price increases so they may have a somewhat distorted view of what the rest of us are facing.)
Housing down payments of 20% or so were still the standard in 1974 and are wise today. Nothing good can happen from helping someone who has been unable to save a reasonable down payment buy a home with a 100% mortgage. What will be the source of the 1% to 4% of the home value required annually just for routine maintenance?
And, to compound the problem, when the federal government made home buying so easy, builders rushed in with large developments of low priced homes to entice potential buyers. Values dropped, homes deteriorated, vacancies increased, borrowers defaulted, and we had the predictable bust which wrecked our economy eight years ago.
So, if you want to make a home, buy a house you love or can learn to love, make a good down payment, and take good care of the property. It will pay big dividends though perhaps not financial dividends. You can even hope for a little increase in inflation to shrink the mortgage payment and drive up the eventual selling price. Unfortunately that inflation will not help our national debt much since the interest rate on it is variable.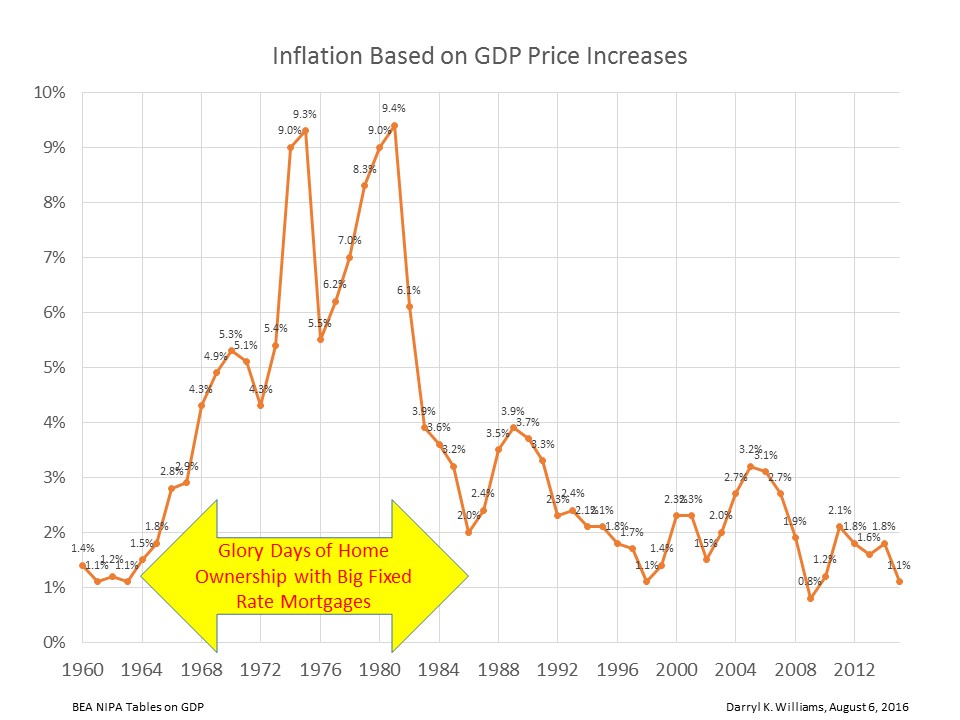 IT takes a heap o' livin' in a house t' make it home – Edgar Guest