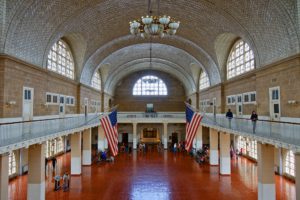 "The attractive nuisance doctrine applies to the law of torts in the United States. It states that a landowner may be held liable for injuries to children trespassing on the land if the injury is caused by an object on the land that is likely to attract children." – Wickipedia
Pope Francis made some comments this week about walls and bridges and Christianity and on Donald Trump's position on immigration, which was probably explained to Pope Francis as poorly as the pope's comments were translated and reported to us by the media. I'm not going to try to defend Mr. Trump since he is unsurpassed in self-defense and needs no help. But I do understand and generally agree with Pope Francis that, from a Christian viewpoint, bridges are better than walls. I believe that was the gist of his comments.
It is clear that the United States of America bears full responsibility for the problems that have resulted from our intentionally insecure southern border and the attractive nuisance it created. We have looked the other way or winked at illegal crossings for decades and have enjoyed the economic benefits of having millions of low cost workers harvesting our crops, working our ranches, cleaning our homes and hotel rooms, keeping our restaurants going, and building our houses. We have allowed establishment of "sanctuary cities" and have issued drivers licenses and provided education and food stamps and other benefits even while continuing to force immigrants to live in the shadows, always fearing deportation. And we have tempted and challenged the "bad" people, the drug pushers and rapists and terrorists Mr. Trump keeps warning us about to join those "good" immigrants in exploiting our porous border. That has been our policy, and it seems to me to be inconsistent with Christianity. A wall would have been far better.
And, a combination of walls and bridges, a secure border with controlled crossing points and processes for welcoming and allowing those who want to come to work to be properly identified and vetted and admitted legally, on special work permits, with the possibility of citizenship if certain criteria were met, might have been a Christian approach, depending on how it was managed. The hiding and fear could have been eliminated and those welcomed could have worked openly and in compliance with US law. And most of the criminals could have been deterred from entry. We could have done much better…and collected more tax revenue in the process.
I know the attractive nuisance doctrine only applies to children. Of course not all the immigrants who have crossed illegally are children, but many are, and the motivation for illegal adult crossings has often been the hope of better lives for their children. Who can blame the ambitious loving parent for being willing to risk life and limb in a dangerous crossing for the benefit of his or her children?
So, what now? I prefer Senator Sanders's proposal for an electronic wall over Mr. Trumps proposed traditional brick and mortar project (paid for by Mexico, of course), but I do agree that securing the border is of prime and immediate importance. We need to eliminate the attractive nuisance temptation and start building bridges.
As for those we have already admitted and exploited with winks and nods, forget the ridiculous idea of rounding up and deporting families. Bush, Rubio, and Kasich are right, and Trump and Cruz are wrong. That approach would never work, would never be allowed by the courts, would be clearly "unchristian," and would just compound the errors of the past. We might even end up deporting the guys who laid the bricks on the new home we built in Blythewood sixteen years ago. And that would be a shame. They were excellent masons and had an incredible work ethic. I didn't even bother to ask if they were legal. I was just glad they were there.