Some folks like the idea of a smaller and less intrusive government, lots of dynamic and competitive private business activity, and individual citizens making choices in free and open markets about what to do with more of their money. Others like the idea of a larger and more intrusive government with lots of "partnerships" with business, government picking winners and losers, revolving doors between business and government, and a larger portion of individual and corporate incomes being taken in taxes by the government so the money can be spent for the "common good" rather than on meeting individual needs and wants. I'm in the former group, but this particular choice is a cultural and practical and economic issue and is not a moral issue.
What is a moral issue is whether or not our senators and representatives and the president have the courage to match taxing with spending, over reasonable time periods, to avoid punishing levels of national debt and the resulting interest payments that are currently forecast to consume an ever expanding portion of our national resources thereby making less money available for either government or private spending.
I can understand the theory that, when the economy is lagging, a little deficit spending and borrowing of money by the federal government might provide a stimulus and encouragement. But my understanding of that assumes that, when it works, the accumulated debt should be paid off in order to allow the same strategy to be used next time stimulus is needed. However, we have slowly increased debt as a percent of GDP for forty years now, through good times and bad. There is no excuse for that. Here is an annotated chart which illustrates the problem.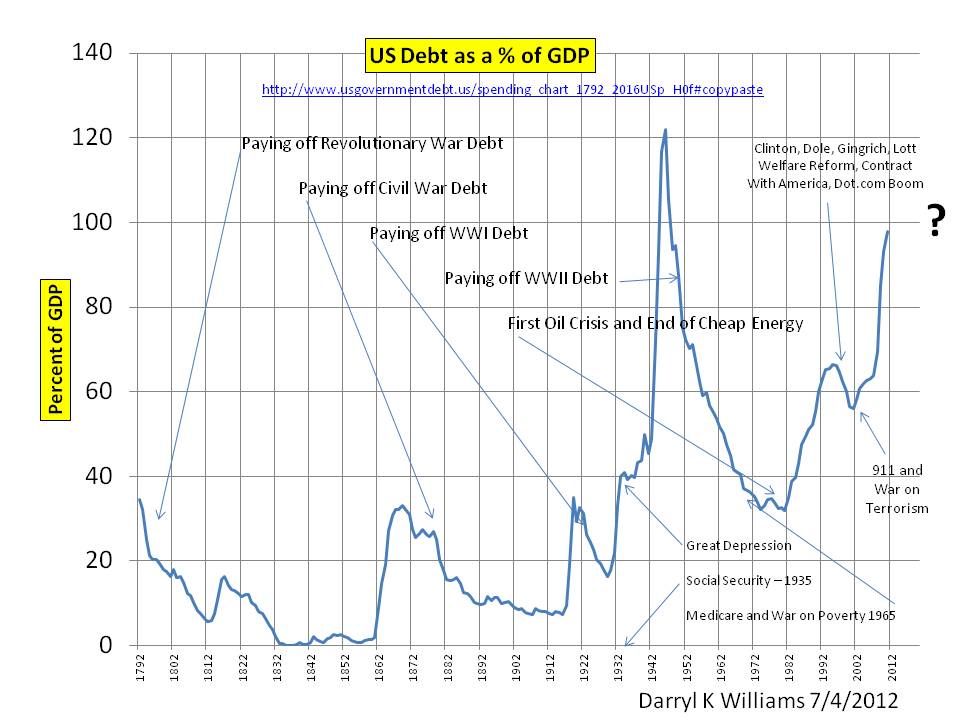 I think our leaders believe correctly that it is not possible to significantly increase tax rates without dampening private business activity and increasing unemployment. I think they know that hundreds of special interest groups and industry groups will be beating down their doors if they propose any serious increases in tax rates or elimination of deductions, exemptions, exclusions and credits. And they know that an entirely different set of special interest groups will be beating down their doors if they try to significantly cut federal spending in any of the big areas, Social Security, Medicare, Defense, and Income Security. So what do they do? They tinker with and argue over trivial and meaningless cuts in that small portion of the federal budget known as "discretionary spending." High-speed rail is probably in that category. Cut it!
Of course "WE the people" are to blame. WE are whining about OUR high taxes at all income levels, and WE wail in anguish anytime spending cuts that will affect US are mentioned. WE don't mind increasing tax rates if they don't affect US, and WE don't mind cutting spending in areas that don't affect US, but don't mess with MY pocketbook or MY grant money.
And that is why we have a representative democracy instead of a direct democracy. Our elected leaders are supposed to be wiser and better informed than the general citizenry and able to look out, not for their constituents, but for the good of the country as a whole. They are therefore supposed to be able to make wise and informed decisions for our benefit. If they can't do it because they are always raising money and worrying about the next election and checking out the opinion polls to see how to vote, then we might as well do without them and their humongous and expensive staffs and just vote directly on everything.
And don't be fooled by anybody who wants to brag about "reducing the deficit." It is the debt as a percent of GDP, not the deficit, which needs to be reduced. And that requires a few years of surpluses or at lease deficits lower than the rate of growth in GDP. In the meantime, we are being granted a little indulgence with the historically low interest rates. If interest rates climb back to the normal 5% to 6% range, Washington will suddenly get very serious or may just resign.